The MAF elevates the self-propelled sprayer segment to new levels of power, performance, comfort and safety.
Ready and agile, designed specifically to be a light, fast and maneuverable self-propelled sprayer.
A range that expands to offer a specific product among premium compact self-propelled vehicles.
The various tractions available identify the different crops and conditions in which the machine can operate; cereals, horticultural crops and even rice, on hillsides as well as in difficult muddy terrain.
Low weight
Maneuverability
Air sleeve
Independently closing bars
Precision agriculture
The MAF 4080HP is equipped with John Deere PowerTech PSS 4-cylinder, 4.5L, 129 Kw (175 hp), Stage V DEF engines. Also available in a Stage IIIA version.
The engine is housed in a silenced pack that can be fully opened and accessed for maintenance from the platform at the rear of the cab. The MAF has separate cooling circuits for engine, hydraulic oil and air conditioning for perfect efficiency. The diesel engine can power three different types of transmissions depending on the customer's needs.
The new 6.8L, 6-cylinder, 168 Kw (225hp) Stage V DEF John Deere engine is also available as an option on the MAF 4080HP.
The new John Deere-derived cab with Mazzotti-developed interior to make it even more comfortable on long work days and safe as a Level 4 pressurized cab. A workstation that is intuitive in controls, soundproofed and has great visibility.
he 4-wheel steering system is essential to reduce field access time and avoid damaging crops. The rear wheels always follow the front wheels leaving only one track on the ground (A) and offering a particularly small turning radius of 5950 mm (B). The MAF allows 3 steering combinations, two front wheels, four-wheel steering and crab steering. Pedal to activate/deactivate the 4 wheels during work operations.
The safety of driving with only two steered wheels on the road, with Mazzotti's unique axle lock, is a key safety feature in driving at 40 km/h.
The MAF4080HP fits the Mazzotti/Sauer automatic 4-wheel steering system S-2C, safety level SIL 3 no stop, with redundant angle sensors on steering cylinders, 2 pumps and 2 independent oil lines as standard. Automatic rear axle realignment. Auxiliary manual release system.
MAF is equipped as standard with simplified hydraulic track adjustment axles that hydraulically move each individual wheel; a handy hydraulic jack is included. This system is designed for occasional track changes. The complete track-change operation can be done in less than 45 minutes. Automatic roadway activated directly from the cab is available as an option, which changes the roadway from wide to narrow and vice versa in seconds. With automatic roadway, intermediate roadways are also possible via brackets. Both versions are available with ground clearance of 1000 mm or 1300 mm.
The MAF 4080 is equipped with a new main polyethylene tank with a maximum capacity of 4200 liters.
The placement of the cistern and components was carefully studied in the design phase to achieve an optimal 50% weight distribution on each axle, with full cistern and open boom.
Mazzotti
Technical DataSheet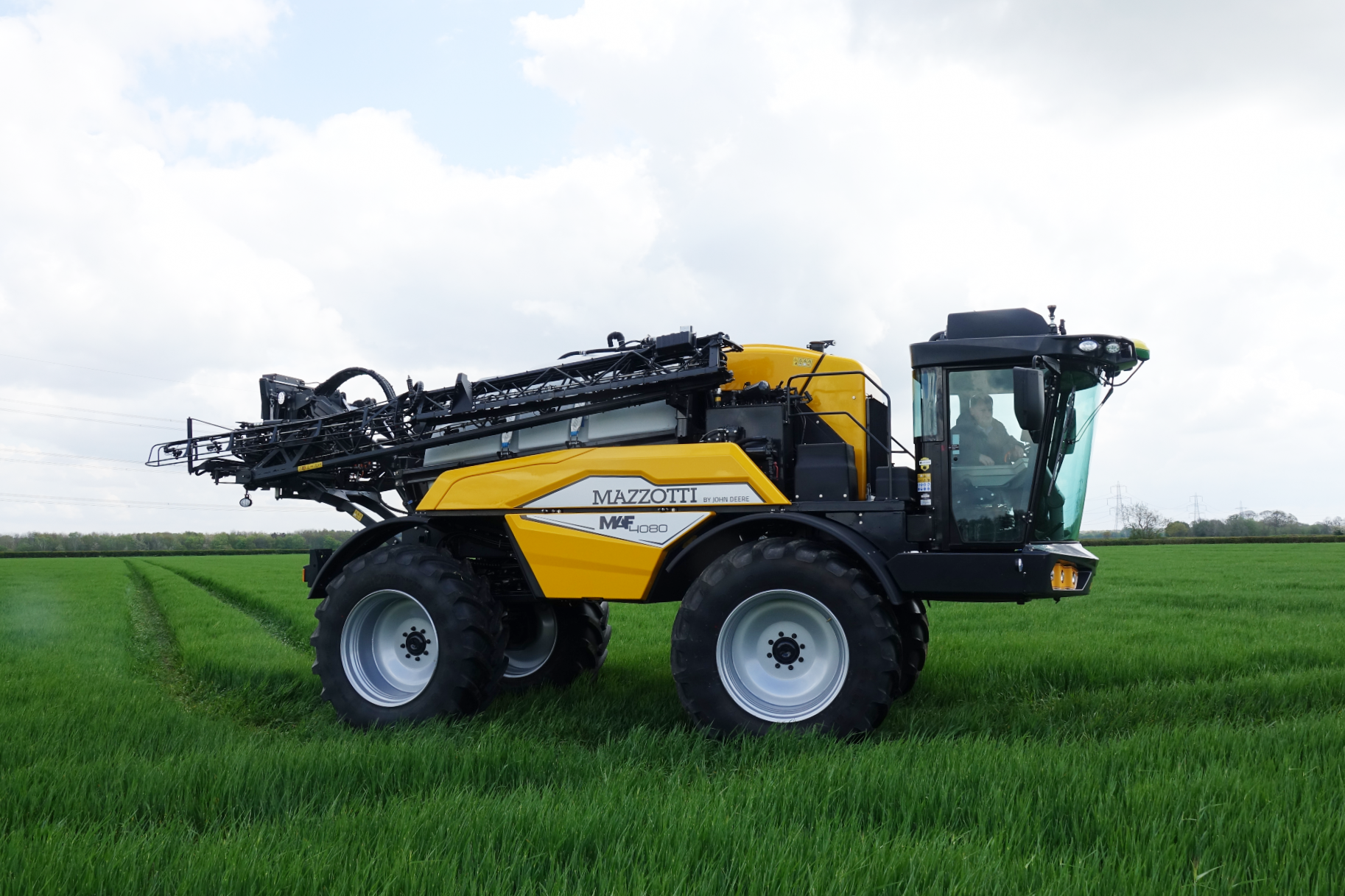 Track widths: 180-225 cm, 225-300 cm
Speed: 0-20 km/h and 0-40 Km/h
Ground light: 1 mt or 1.3 mt
Diesel engine: 225 hp or 175 hp
External turning radius: 5.95 mt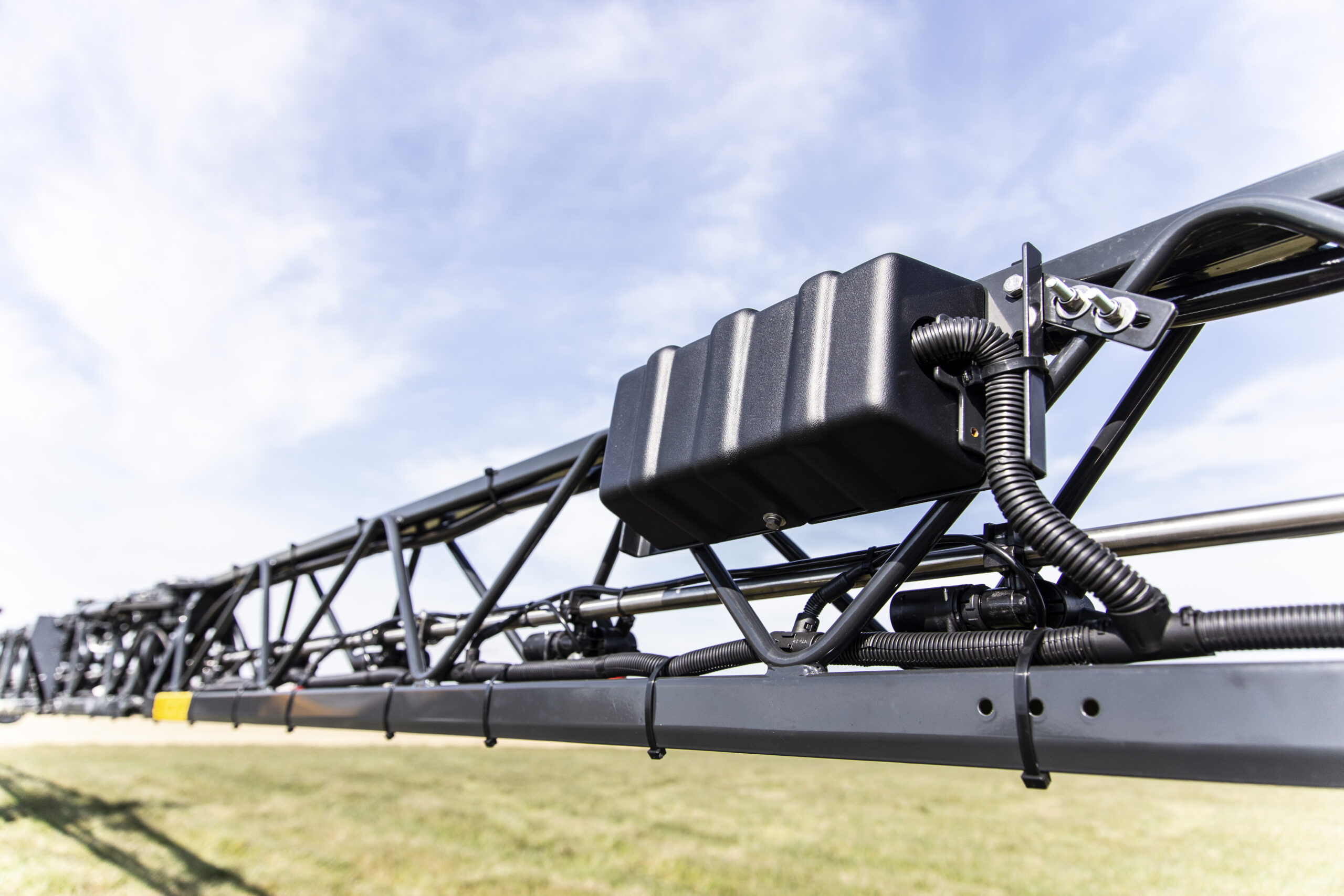 Ti-M hydraulic boom vertical closure 18 mt painted and triget Seletron single
Ti-M hydraulic boom vertical closure 19 mt painted and triget Seletron single
Ti-M hydraulic boom vertical closure 21 mt painted and triget Seletron single
Ti-M hydraulic boom side-by-side closure24 mt painted and triget Seletron single
hydraulic boom Ti-M side-by-side closure28 mt painted and triget Seletron single
Ti-M hydraulic boom vertex closure 18 mt stainless electropolished and triget Seletron single
Ti-M hydraulic boom closing vert. 19 mt stainless steel electropolished and triget Seletron single
Ti-M hydraulic boom closing vert. 21 mt stainless steel electropolished and triget Seletron single
hydraulic boom Ti-M lat. closure 24 mt stainless steel electropolished and triget Seletron single
Ti-M hydraulic boom closing lat. 28 mt stainless electropolished and triget Seletron single
Ti-M Evo hydraulic boom closing lat.24 mt stainless electropolished and triget Seletron single, nozzle spacing at 25
Ti-M Evo hydraulic boom closure lat.28 mt stainless electropolished and triget Seletron single, nozzle spacing at 25
Ti-M Evo hydraulic boom closure lat.30 mt stainless electropolished and triget Seletron single, nozzle spacing at 25
MK hydraulic boom lat. closure 2 parts24 mt painted and single Seletron triget
MK hydraulic boom lat. closure 2 parts28 mt painted and single Seletron triget
MK hydraulic boom closing lat. 2 parts30 mt painted and triget Seletron single
MK hydraulic boom closing lat. 3 parts32 mt painted and triget Seletron single
MK hydraulic boom closing lat. 3 parts33 mt painted and triget Seletron single
MK hydraulic boom lat. closure 3 parts36/24 mt painted and triget Seletron single