A compact and lightweight self-propelled machine designed for horticultural crop treatments, balanced with low soil compaction.
IBIS 2130 with 2100 lt main tank and IBIS 2530 with 2600 lt tank are available with booms from 18 to 24 m and various customization possibilities.
Low weight
Maneuverability
Air sleeve
Independently closing bars
Precision agriculture
Ideal for various crops
140-hp John Deere Power Tech engine combined with a 4-wheel-drive hydrostatic transmission. Two hydraulic pumps in tandem feed two independent hydraulic circuits, one for front axle and one for rear axle, ensuring traction even in the most difficult conditions.
Two gears are available: from 0-20 km/h in work and from 0-40 km/h in road transfer. In the field, the maximum working speed can be set through the Slow Motion function.
The IBIS is an extremely versatile self-propelled tractor because it is available with 3 different axle widths with either manual extension on rollers or automatic hydraulic extension from the cab. The standard ground clearance is 1 m or upon request up to 1.5 m.
The left side compartment houses a 280 lt/m diaphragm water pump or 330 lt/m on request. Both a flow meter and a pressure switch work alternately to ensure the best distribution at different speeds. In the right compartment are located the multifunction valves for filling, product mixing and washing operations. A can washer is also included in the capacious 40-liter premixer.
The front cab provides a pleasant driving experience both on the road and in the field. The view of the front wheels from inside the cab is useful in insertion maneuvers, while the positioning of the boom in transport does not hinder visibility on the road. This is a level 4 cab equipped with a pressurization system and includes activated carbon, dust and vapor protection filters for maximum operator safety.
Inside we find a pneumatic seat, air conditioning and a large console with ergonomic controls. The Tera monitor performs real-time diagnostics and in case of need allows early identification of the necessary solution to minimize downtime.
The IBIS can come standard with an Arag spray computer that can be integrated with John Deere management systems such as Gen 4 monitors, Startfire antenna, satellite guidance and JD Link readiness.
The boom is placed on a cushioned parallelogram lift, which contributes to the stability of the boom. The parallelogram reaches a travel range of 500 mm to 1970 mm. The IBIS series mounts Ti-M series booms, which are strong and lightweight and feature self-levelling, variable geometry and independent locking. Jets and nozzles are perfectly integrated and protected by the bar structure.
Ti-M Bars are also available with STAINLESS steel arms, which are resistant to through corrosion that can weaken structures over time.
Particularly useful for horticultural crops, the boom can be equipped with an air sleeve to improve treatment quality, coverage and penetration, particularly in the case of important leaf mass. It also reduces drift and the amount of water used by lengthening filling intervals.
Mazzotti
Technical DataSheet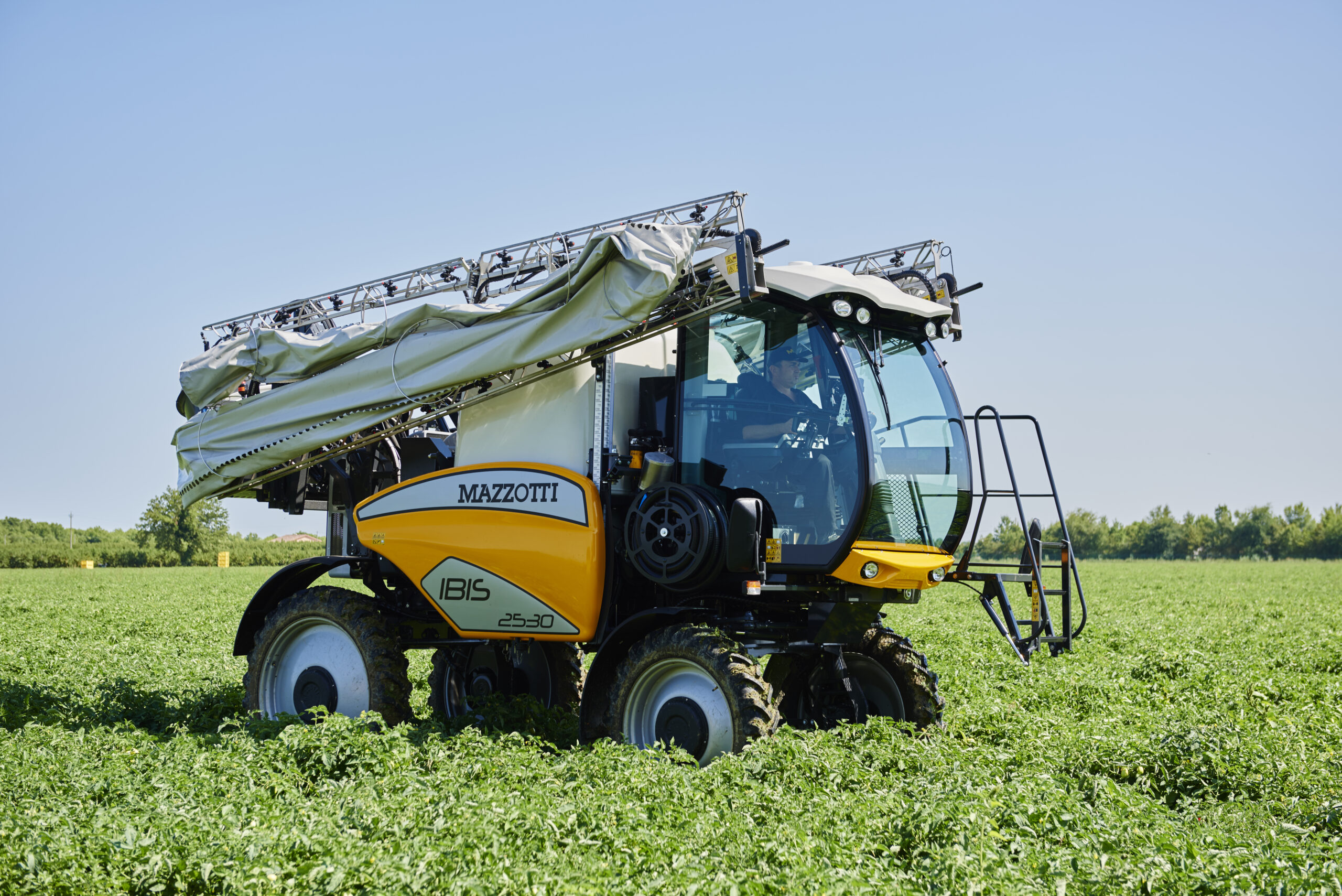 Main tank: 3600 It or 3100 It
Roadways: 150-180 cm, 180-225 cm, 225-300 cm, 180-300 cm
Speed: 0-20 km/h and 0-40 Km/h
External turning radius: 3.90 mt (4RS)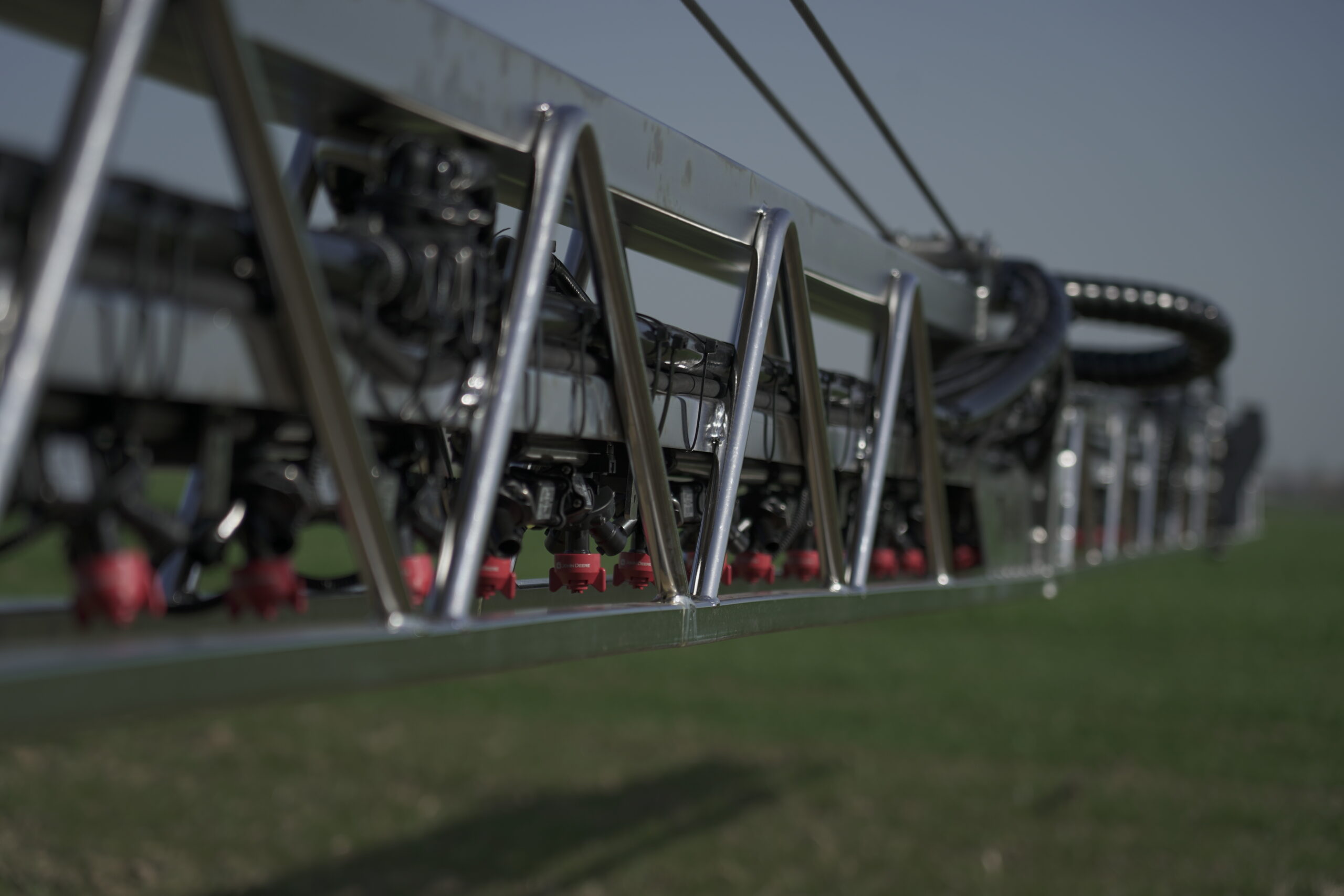 Ti-M hydraulic boom vertical closure 18mt / 7sections painted
Ti-M hydraulic boom vertical closure 19mt / 7sections painted
Ti-M hydraulic boom vertical closure 21mt / 7sections painted
Ti-M hydraulic boom side-by-side closure 24mt1 / 9sections painted
Ti-M hydraulic boom vertical closure 18mt / 7sections INOX electropolished
Ti-M hydraulic boom vertical closure 19mt / 7sections INOX electropolished
Ti-M hydraulic boom vertical closure 21mt / 7sections INOX electropolished
hydraulic boom Ti-M side-by-side closure24mt1/ 9sectionsNOX electropolished